Luiggi's Pasta House | Lunch Menu
Serving Italian Cuisine since 1984.
Contact Luiggi's Pasta House
Located in north Regina, on Albert Street. Luiggi's has been serving Regina quality Italian cuisine since 1984.
Call 306 949 7427 for a reservation.
Looking to have your next event catered by
Luiggi's Pasta House?
Contact us, we can help make your event a success.
Don't forget to follow us on Facebook.
The map below will help you find us if you don't already know where were are. Or… just stick your head out the window and follow your nose to Regina's Italian cuisine!
Our Hours
Monday to Thursday:
11:00 AM to 2:00 PM
4:00 PM to 8:00 PM
---------------------------
Friday & Saturday:
11:00 AM to 2:00 PM
4:00 PM to 9:00 PM
Open until 9:00 PM
for Pick Up and Delivery
---------------------------
Sunday:
Brunch: 10:00 to 2:00 PM
Dinner  4:00 to 8:00 PM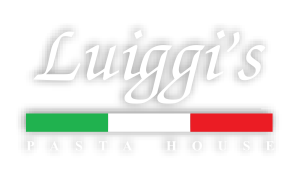 Regina Italian Restaurants
Welcome to Luiggi's Pasta House in Regina.
The restaurant prides itself on daily made pasta accompanied by hearty vegetables, fresh cuts of meat, and house-made sauces.
Each meal is made from scratch at the time of order by our classically trained chefs, allowing for the ability to add or leave out certain ingredients. 
Our Address
470 Albert Street North
Regina, SK S4R 3C1